ROADSIDE IN THE EYE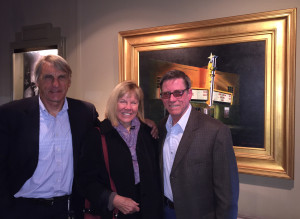 by Kevin T. McEneaney of the Millerton Independent.
 "
At the Millerton Moviehouse on October 10 at 5 pm., the opening reception for painter Jeffrey L. Neumann was packed—standing room only for viewing the half-hour documentary "Vanishing America." This filmed tribute to his work, produced and directed by William L. Farrell of Farrell Video Productions, presented a biography of Neumann along with his recent paintings. 
Quite frankly, I expected to be bored by the documentary, but was enchanted, not only by the articulate, lively story line, but also by the attention to voice inflection by Neumann in the documentary. Farrell told me it took about twenty takes over about a year to edit the work into its polished surface. Farrell, who greatly impressed me, has completed many documentaries of painters."
Video of the week…

On April 9, 2016, my wife Shelly and I drove over to Athol, MA to film hundreds of canoeists competing in the 53rd running of the Athol-Orange River Rat Canoe Race.